We're in the office Monday through Friday, 9am-5pm.
Call (360) 571-4061
Email info@swmotosafety.com
All Vancouver classes and testing are held at the Clark County Events Center (Pre-registration and payment required)
17402 NE Delfel Road Ridgefield, WA 98642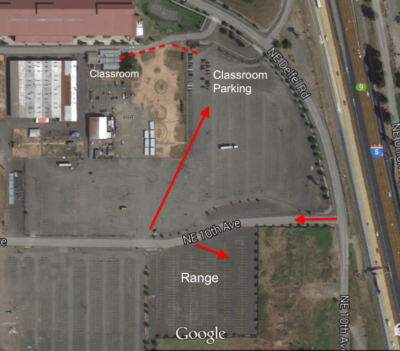 Vancouver classes are located west of Interstate 5 – at exit 9, NE 179th Street in Ridgefield, WA (Enter Events Center near the amphitheater's big lit sign.)

Riding sessions: Lot C (near Amphitheater) reserved for motorcycles only

Classroom sessions: JULY CLASSES CLASSROOM TAKES PLACE AT LA QUINTA INN IN SALMON CREEK. Inside the old fairgrounds office building (near the food court). Park in lot A facing freeway(see map above). Walk through gate. Classroom door is facing freeway with SW Motorcycle sign (Beige/tan building). CLASSROOM IS NOT IN EVENTS CENTER.

Check your class confirmation for where your class begins

REMINDER: We begin all sessions on time!